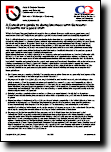 "A Canadian's guide to doing business with Germans:
10 points for a good start"

After the positive feedback to our seminars with the Canadian German Chamber of Industry and Commerce

in Toronto the Chamber, together with Ontario Exports

, invited us to write a short informative text for Canadians who would like to establish business contacts with German companies.

The 2-page text, "A Canadian's guide to doing business with Germans: 10 points for a good start", contains the most relevant notes on what Canadians should consider if they want to build successful business relations with German partners. Our text is meant to be especially useful in the early stages of establishing a professional relationship, by helping to avoid typical communication barriers.

The flyer is distributed by the Canadian German Chamber of Industry and Commerce to interested companies and is also available for download here.