ExecutivePlanet.com (Information on Germany)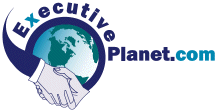 Since May 2003 we are active as ExecutivePlanet.com's

"Business Culture Guides" for Germany. Here you will find a variety of texts written and maintained by us which all deal with the various aspects of German business culture.
ExecutivePlanet.com provides information on many of the business cultures around the world and is the most popular web site on international business culture. Since intercultural communication knowledge and skills, the way we teach them, play a major role in this field, we gladly accepted the responsibility of being ExecutivePlanet.com's "Business Culture Guides" for Germany.
We have extensively updated and extended the previously available information on Germany as it appeared on ExecutivePlanet.com. The information, dealing with topics such as making appointments, what you should know before negotiating, entertaining for business success, and much more, provides vital knowledge to anybody interested in acquiring effective business communication skills with respect to Germany.
Other than these reference texts, ExecutivePlanet.com is now also starting to add discussion groups for each of the featured cultures. These discussion groups, moderated by the "Business Culture Guides", are open to anyone and provide a valuable resource for the exchange of information between the readers.
All of the "Business Culture Guides" at ExecutivePlanet.com are internationally experienced managers, consultants, or trainers; renowned authors; or experts on cross-cultural business communication. We recommend ExecutivePlanet.com to anyone who is xlooking for relevant business communication information for any of the cultures and countries it features.
We're looking forward to meeting you at ExecutivePlanet.com

!
About ExecutivePlanet.com:
ExecutivePlanet.com was founded in early 1999 as a web site to inspire and educate business travelers about international business culture and etiquette. In addition to providing valuable country-specific guides, ExecutivePlanet.com also features articles by experts in cross-cultural business.
ExecutivePlanet.com has been featured in such prominent media as Time Magazine, CNN, Business 2.0, The Globe and Mail - Canada's National Newspaper, and The Houston Chronicle, to name a few.
ExecutivePlanet.com currently receives over 500,000 page views a month and over 2000 unique visitors a day as the most popular site on international business culture.